Super-strong magnets
The iPhone stays safely attached even with vigorous shaking. Fits perfectly on any MagSafe compatible case or just your bare iPhone (series 12 or newer).

Thumb-rest & Cold Shoe mount
Get a stronger grip with the hight adjustable thumb rest or replace it with the included cold shoe mount for your light or microphone.

Tripod Screw Mount
Allows you to mount your phone on any tripod and rotate it in either landscape or portrait. Perfect for using the Fjorden Grip as a remote shutter button!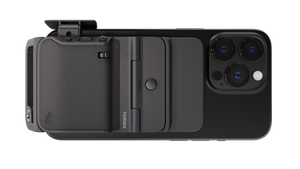 Ultra-COMPACT & POCKETABLE
We've kept the designs small and minimal as possible while also ensuring a secure and comfortable grip. Fjorden remains pocketable, so that you can always have it with you and capture the decisive moment.
Visit our Help Center if you have any questions about our products or your order. If you can't find your answer there, feel free to contact us through our live chat.