Become a better photographer
Start exploring creative photography techniques with the camera you already have in your pocket!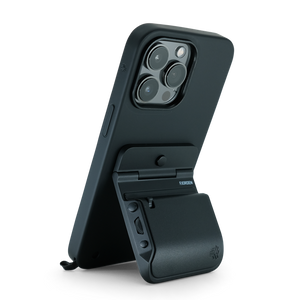 Meet the
Fjorden Grip
Enhances your iPhone photography experience. Improved grip, physical controls, and integration with the free Fjorden Camera App give you full control over camera settings.

Street, travel, family portraits: Take the perfect shot with the Fjorden Grip.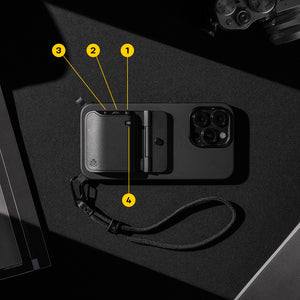 Features

Shutter Button
Half-press to focus, full-press to capture.

Control Dial
Adjust exposure, shutter speed, ISO and other parameters without changing your hand position.

Multi-Function Button
Choose what it does: Toggle flash modes, focus peaking, trigger selfie mode or switch between other custom settings.

Zoom Lever
Quickly switch between iPhone lenses, or smoothly zoom in and out.

Remote trigger
The Grip is easy to detach and use as a remote shutter button for night photography or group photos
Safe & Protective
Go for that tricky perspective, knowing you have a good grip on your iPhone. The Fjorden MagSafe Case also features loops for attaching a strap for even more confidence.
Kickstand
Tilt the Grip and use it as a kickstand for hands-free FaceTime calls, and rotate it to landscape and enjoy a full screen video.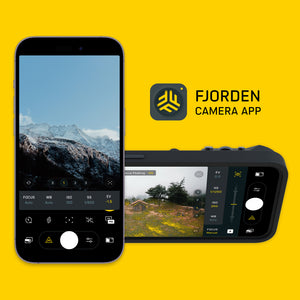 Take a peak with
our Camera App
Fjorden Camera for iOS is an advanced, yet intuitive camera app built for fast, one-handed shooting. Use it in "Full Auto" to let the iPhone work its magic, or take full manual control of camera parameters.

We designed the Fjorden Camera App by the same priciples that stand at the origins of the Fjorden Grip: "form follows function". We hope you'll enjoy it!
Download for free
Never miss
the perfect shot